My system was installed as GhostBSD 10.3 MATE and I upgraded it to 11.0-RELEASE doing a source upgrade. All packages were rebuilt from ports using the latest versions of course. MATE hasn't been touched for a while in FreeBSD, so I guess that this information is not that important but I wanted to give it anyway.
I'm having problems with the automounting of USB drives. I have a USB key that has GhostBSD11.0-PREALPHA2 on it as I wanted to try that out. I didn't have time for it, yet, and later decided that I'd rather give the Xfce edition of GhostBSD a spin to see what that's like. When I insert the USB key, I'm getting these four error boxes: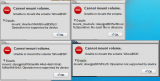 (Please click to enlarge)
That's fine as these are not common filesystems, I guess. The problem however is not that these cannot be mounted - the problem is that the EFI partition
is
being mounted. And not only is it mounted once (which would be ok), but it is remounted automatically if I unmount it!
It doesn't really matter if I unmount it graphically in Caja like this:

or if I do a
sudo umount /media/disk/
, the result is the same: All partitions from the USB key disappear for a second and then I'm back at the beginning, getting the messages from the first picture again.
This is definitely not the expected behavior that I know from MATE on other systems. Normally media should not be automatically re-mounted unless the USB key was removed and re-attached in between. I have been able to dd another image on it by preparing the command in the terminal, clicking unmount and pressing ENTER on the terminal quickly enough.
BTW: That strange behavior does not occur if I attach another USB key with a regular FreeBSD image on it.
Any clues on what's happening here? I can cope with it as it is now but since I intend to test new GhostBSD alphas, betas and RCs now and then, it's still a bit of an annoying bug. So any help would be appreciated.